At AnMa-TECH we are always providing our customers with the best solution for their bolting applications. Our philosophy is all about using standard tools with custom solutions, making sure our customers  get the most solid, reliable and cost effective solution possible.
When you are looking for a supplier with dedicated knowledge about bolting applications, look no further!
AnMa TECH BV is the undisputed no. 1 on bolted connections & custom made solutions in the BeNeLux.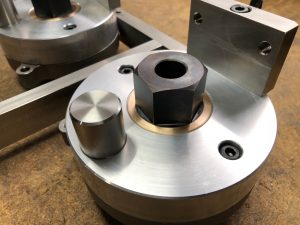 The customer for the application in this post needed a solution for tightening bolts of crankshaft bearing caps. The challenging part was that they needed to measure the elongation of the bolts while tightening them.
We designed a custom solution where two TorsionX HexPRO low clearance tools are used. The complete solution can be moved in one piece. There is a mechanical elongation measurement integrated to ensure the quality of the job.
If you are looking for a partner that is dedicated to bolting applications please contact us.